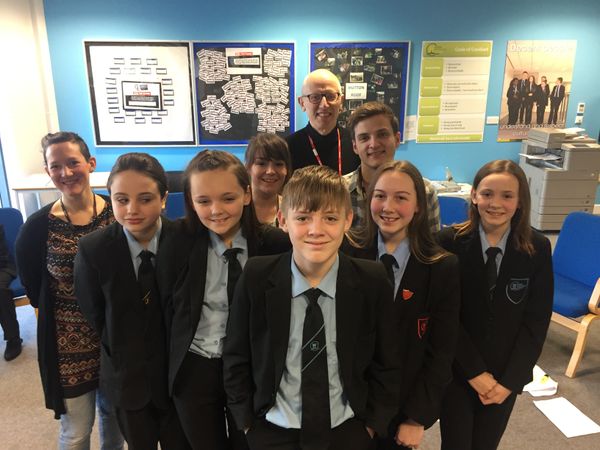 Months of hard work has come to fruition as students of Walker Technology College gathered together for the first full read through of an innovative new play that they have created about their personal experiences of living in the east end of Newcastle. 
"Walker Talk" is a year long project funded by the Sunday for Sammy Trust in which award winning Newcastle based theatre company, Curious Monkey are working with students and teachers over a full school year to produce the brand new theatre production. 
Around 40 young people are working on the production across a range of artistic disciplines including writing, performing, set design, music, stage management and media/filmmaking. 
The read through was the first opportunity for the actors to see and hear the play come to life and it was also a good opportunity to receive positive feedback for those in the writing group. 
The project brings drama back into the school and engages with Art, Design, Media and English lessons. The final production, performed by a mixed cast of students with two professional actors, will be held at the College in May 2017 for their cohorts, families and the local community. 
Artistic Director for Curious Monkey, Amy Golding said; "All aspects of theatre life are covered in this exciting project. We are engaging everyone, even those not wanting to perform and giving them a unique chance to be part of a team. We are all working towards an exciting end product and everyone is making their own positive contribution and learning transferrable skills on the way. 
"The funding we've received from The Sunday for Sammy Trust has opened up new opportunities for the students and we are really looking forward to showing off their talents in May." 
Representing Sunday for Sammy, Ray Laidlaw was very impressed with what he saw on the day. 
"The project has been running for about four months now and I've seen the student's confidence and technical abilities grow. The read through was magical in the respect that the play was brought to life for the first time and everyone was engaged whether they were reading, part of the design group or the writers themselves. I'm sure that the final production will be something to be very proud of and exactly what The Sunday for Sammy Trust was set up to do. " 
The Sunday for Sammy concerts have been held every two years since 2000 and the trust have donated over £400K to young performers in this region to fund projects that enable them to follow their dreams. 
In previous years Geordie legends as diverse as Mark Knopfler, Tim Healy, Brian Johnson, Denise Welch, Kevin Whately, Jill Halfpenny and many, many more have returned to Tyneside to perform in the show. The last show in February 2016 is now available to watch on a DVD that also helps to fund the charity. 
The next show will be in 2018, watch out for a major announcement soon.