Sunday for Sammy: how you can help us!
Although there will be no Sunday for Sammy show in 2023, we're continuing to support creative talent in our region.
You can help us continue our work in one of the following ways:
Sunday for Sammy 2023 - a message from Tim Healy
Sunday for sammy Merchandise - NOW available online
DELIVERED TO YOUR DOOR!
Did you miss out on the fantastic T-shirts, hats, hoodies and other goodies at Sunday for Sammy 2020? Now you can order online from our friends at auf-pet.com!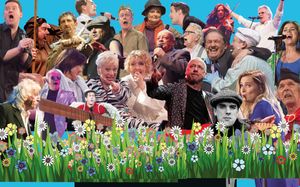 About Sunday for Sammy
Sunday for Sammy is a biennial entertainment extravaganza held in memory of the late actor Sammy Johnson.
First held in 2000, the shows feature a galaxy of stars from the worlds of TV, theatre and music. They sell out in minutes, raising funds for creative, talented and enthusiastic young performing artists from the North East. 
Past performers have included Auf Wiedersehen Pet's Tim Healy, Kevin Whately, Jimmy Nail, Timothy Spall and Christoper Fairbank, along with Denise Welch, Brendan Healy, Ray Jackson, Charlie Hardwick, Billy Mitchell, Stephen Tomkinson and Jill Halfpenny: while many of the cast appear regularly in the show, the final bill is never made public and surprise guests in recent years have included AC/DC's Brian Johnson and Mark Knopfler. 
Space is also made on the bill for some of the young performers who have received financial support from The Sunday for Sammy Trust, giving them a valuable opportunity to share the stage with some of the North East's most high profile entertainers. 
Sunday for Sammy... it's THE Geordie command performance!
THANKS TO THE FOLLOWING FOR THEIR CONTINUED SUPPORT: