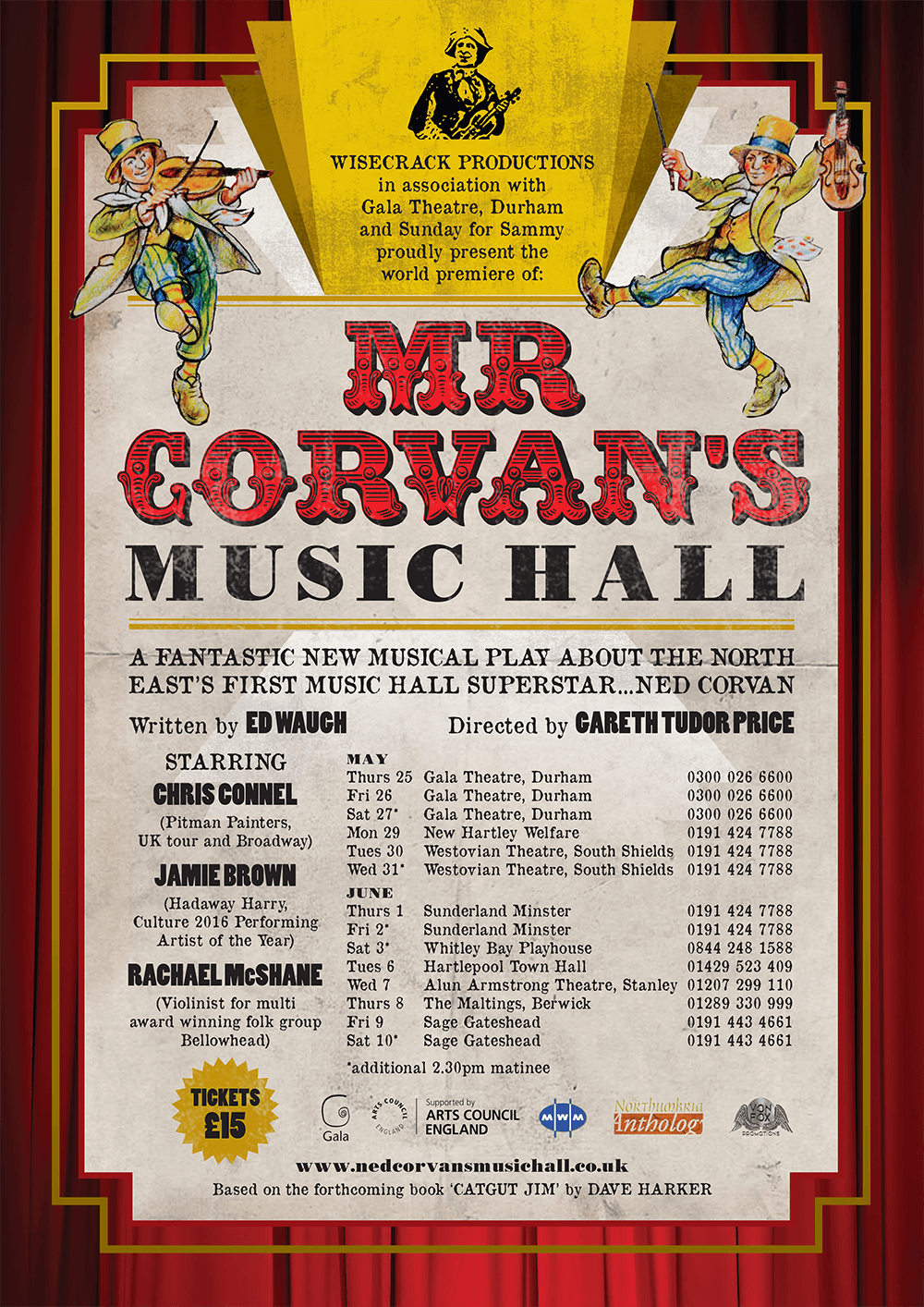 YOUNG ACTORS TO RE-TIE THE COMEDY KNOT OF HISTORY 
Billy Stealing the Bundle...Laing Art Gallery. Newcastle, Tuesday, May 23, and at noon and 2pm. 
Young actors will re-create history at the Laing Art Gallery in Newcastle when they perform a hugely popular Victorian comedy sketch called Billy Purvis Stealing the Bundle under a painting by Ned Corvan that bears the same name. 
The Ned Corvan Shadow Troupe, which is sponsored by Sunday for Sammy, are touring the region with their own play about Ned and singing his songs. They will be performing in front of the painting in the Laing on Tuesday, May 23, at noon and 2pm. 
It will be the first time Stealing The Bundle will be performed professionally since Corvan's death in 1865, more than 150 years ago. 
The sketch was originally devised by Newcastle-based Billy Purvis (1784 to 1853) who had a travelling show that attracted huge crowds throughout the North and Scottish Borders. 
Richard Flood, who is the Shadow Troupe project manager, explained: "Billy was a clown, comedian, conjurer and musician whose troupe performed melodramas, farces and musical interludes." 
Aged 18, Ned "ran away from home" to join Purvis where he honed his singing, song writing, comedy, painting and musical talents. 
Richard continued: "Billy's skit "Stealing the Bundle" involved a clown finding a bundle and, every time he opened it, there'd be something different inside. Contemporary reports say Billy would "bring the house down". 
"Purvis died in Hartlepool in December 1853 and Ned's love of Billy was reflected in his grief over his mentor's death in the form of heart-felt poems and songs to the "Clown of the North" and this excellent painting (1855). 
"Corvan went onto become the first professional Geordie singer/songwriter, eventually penning around 120 songs in his brief lifetime, dying in 1865 aged only 37. He often performed Stealing The Bundle dressed in Billy's old costume." 
Richard added: "Billy died in Hartlepool and was buried there because his family couldn't afford to bring him back to Newcastle. He got a headstone in 1860 thanks to a benefit by the Sangster Brothers' Circus." 
Entry to the performances of the Ned Corvan Shadow Troupe performing Billy Stealing the Bundle at the Laing Art Gallery is free.  All welcome. 
The painting Stealing The Bundle is currently on public display alongside A Border Fair by John Ritchie. The latter is believed to feature a young Billy Purvis playing the drum at the Stagshaw Bank Fair, near Hexham. 
Billy Stealing the Bundle...Laing Art Gallery. Newcastle, Tuesday, May 23, and at noon and 2pm. 
A play about Ned Corvan and featuring Billy Purvis, Mr Corvan's Music Hall, is touring the North East in May/June 2017. Visit the website for more info.
---
Sunday for Sammy may not be until next February but we're urging anyone who likes great Geordie music, humour and drama to get along to Mr Corvan's Music Hall,  which we are sponsoring, in May and June. You might have seen it advertised on the inside cover of the Sunday for Sammy 2016 DVD….  
Alan Hull, Mark Knopfler, Sting... we've all heard of the great modern Geordie singer/songwriters but their paths were lit by Geordie Ridley, Joe Wilson and Ned Corvan, who all regularly entertained audiences of thousands in Newcastle and the region's many music halls; some had a 4,000 capacity, with no amplification!  
Sadly, these Tyneside Victorian superstars are largely forgotten today... until now!  
Mr Corvan's Music Hall (a stageplay with music) has had the tremendous input of Benny Graham (Pitmen Poets) and Johnny Handle (folk superstar) and is based on Dave Harker's  brilliant new book about Ned Corvan called Catgut Jim.  
Wisecrack Productions with Durham Gala theatre and Sunday for Sammy have brought to life 22 of Ned's brilliant songs against a backdrop of a dramatic, funny but tragic story written by top North East playwright and a Sunday for Sammy writer Ed Waugh, whose latest play Hadaway Harry played to full houses and standing ovations in London and Newcastle Theatre Royal in February.  
Mr Corvan's Music Hall stars Chris Connel (Pitman Painters, UK and Broadway), Jamie Brown (Hadaway Harry, and Culture 2016 Performing Artist of the Year) and Rachael McShane (ex-violinist of national folk stars Bellowhead). It will be directed by Gareth Tudor Price (West End credits and Hull Truck).  
Sunday for Sammy have sponsored a "shadow troupe" of two young actors/singers, a violinist, a director and a technical person who will gain top professional experience by rehearsing with the main production team before writing their own Ned Corvan show and performing separately throughout the region.  
Sunday for Sammy producer Ray Laidlaw, said: "Sunday for Sammy is proud to be associated with Mr Corvan's Music Hall. The idea of promoting our Geordie heritage is part and parcel of what we are about but, more importantly, five young, talented people from our area are getting a unique chance to experience the top, professional, theatre world with on-the-job mentoring.  
"In addition to working alongside such respected professionals, by writing their own show and performing separately, the Shadow Troupe will all get a writing credit and have their work seen by the public."  
Mr Corvan's Music Hall tours the region in May/June. Tickets cost £15. For regional dates and more information about the Ned Corvan project, visit the website.
Mr Corvan's Music Hall is supported by Arts Council England